the itu is the un network responsible for futures of telecoms - while headquartered in geneva, it is chaired through 2014-2022 by a chinese leader
ITU Secretary-General Houlin Zhao
giving china a responsibility for telecoms cooperation like no other
associated reference
action-line matrix
​​​ITU Publications

​

Welcome to ITU Publications – expert, unique and reliable ICT content delivered via 4000+ titles, including publications, handbooks, reports, software and databases. Available in a range of formats and languages. Free access to ITU-R and to most "in force" ITU-T Recommendations, as well as to numerous other publications such as the RR16.

Access essential information such as:




ICT Policy, ICT Development and ICT Market Analysis
ICT Standards and ICT Recommendations
ICT Statistics, ICT Indicators and ICT Trends
ITU ICT Conference Proceedings

​




Covering a wide array of current ICT topics, including:



once every 4 years the itu host a 3 weeks summit - next dubai nov 2018
here is a youth itu briefing
Digital inclusion of youth
Overview
There will be tens of millions of jobs for people with advanced digital skills in the coming years, with some economies predicting a talent gap for workers with advanced digital skills, and others ranking ICT specialists among their fastest-growing roles. While young people are often considered "digital natives", the majority of them do not actually possess sufficient job-relevant digital skills to fill vacancies.
Governments, social partners, the private sector, academia, civil society and other key stakeholders need to ensure that young people are equipped with the digital skills to benefit from employment and entrepreneurship opportunities to build an inclusive digital economy and society.
Equipping young people with digital skills, in particular advanced digital skills, and providing them with entrepreneurship opportunities, will contribute to United Nations Sustainable Development Goal 8: achieving decent work for all and inclusive and sustainable economic growth.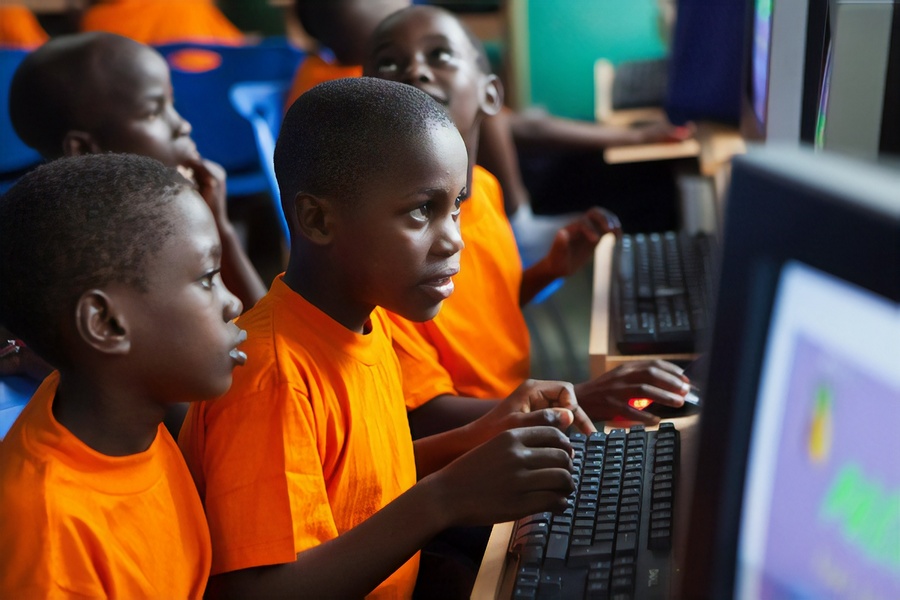 Photo by Andrew Aitchison/ In Pictures Ltd./ Corbis via Getty Images
Challenges
Digital skills are increasingly required in workplaces around the world, as ICTs are rapidly transforming jobs across industries, including agriculture, entertainment, financial services, health and transportation.
There will be tens of millions of jobs for people with advanced digital skills in the coming years, with some economies predicting a talent gap for workers with advanced digital skills and others ranking ICT specialists among their fastest-growing roles.
Young people aged 15-24 represent almost one-fourth of the total number of individuals using the Internet worldwide. In 2017, 70.6 per cent of the global youth population were online. Young people are "early adopters" of ICT-based technologies and can drive growth and innovation in the sector. However, the majority of young people do not possess job-relevant digital skills.
Solutions
Governments can design national strategies to develop young people's digital skills and build an enabling environment for innovation, entrepreneurship and job creation in the digital economy.
As the major employer of digitally skilled young people, the private sector can provide workplace learning opportunities to enhance the long-term employment prospects of young women and men.
Small and medium technology enterprises and start-ups have a significant impact on economic growth, employment and investment opportunities. As a result, many governments are now supporting the creation and development of this economic sector and creating jobs for young people with advanced digital skills to fill vacancies.
The digital economy requires a wide range of digital skills which are classified as follows:
Advanced digital skills: These are skills necessary to create, manage, test and analyse ICTs. They relate to technology development, including coding, software and app development, network management, machine learning, Big Data analysis, the Internet of Things (IoT), cybersecurity and blockchain technology.
Basic digital skills: These are generic ICT skills required for nearly all jobs. They include web research, online communication, use of professional online platforms and digital financial services.
Mid-level digital skills: These include digital graphic design and marketing, desktop publishing and social media management, both for job and entrepreneurship opportunities.
Soft skills: These are skills necessary for effective collaboration in the digital economy. They include teamwork, leadership, communication and client focus, among others.
Digital entrepreneurship: These refer to digital skills required by entrepreneurs, including online market research, strategic planning and business analysis and the use of crowdfunding platforms.
ITU's contribution to include youth in a digital society
Skills development
In June 2017, ITU and ILO launched a joint Digital Skills for Decent Jobs for Youth Campaign, which aims to mobilize the political will and resources to equip five million young men and women with job-ready digital skills by 2030 in support of the United Nations Sustainable Development Goals (SDGs).
As part of this campaign, ITU, the International Labour Organization (ILO) and other international agencies have convened governments and other stakeholders to set a global agenda to fill the digital skills gap. ITU's Digital skills toolkit, which provides recommendations for governments to design national digital skills development strategies for the work and life of all citizens in the growing digital economy, forms part of ITU's support to the campaign.
In addition, ITU's report Coding bootcamps: a strategy for youth employment provides policy-makers with recommendations on implementing this training model to address youth unemployment. Coding bootcamps are innovative three-to-six month intensive in-person training courses, where students learn programming foundations and then practice what they have learned in project-based exercises that aim to simulate the everyday work environment.
ITU also hosts hackathons, which are competitive events aimed at bringing together computer experts and young people to learn new computer programming skills and create software.
Job creation and entrepreneurship
ITU encourages the creation of new job opportunities to integrate more young women and men in the labour market and help digital economies flourish.
ITU's report Digital opportunities: innovative ICT solutions for youth employment advises policy-makers on ways they can ensure that youth are included in the digital job market.
ITU also works with partners to build an enabling environment for innovation and entrepreneurship. Every year at the ITU Telecom World event, ITU supports the success of innovators throughout the world. ITU Telecom World Awards recognize the most innovative and successful ICT-based small- and medium-sized enterprises (SMEs) working to provide social impact.
To help young job seekers and entrepreneurs gain employment or start a business, ITU has collected resources including but not limited to training opportunities, contests, networking events, hubs, mentoring networks and job-matching services.
Here are a few examples of digital inclusion of youth in action:
Relevant links